You know what's rubbish? Being on a diet and not getting treats mid-week when you're feel a bit bleurgh. Today was one of those days so I decided to devise the PERFECT mid week (dinner) treat inspired by a recipe I saw on Pinterest. It's by no means a frugal meal (those scallops cost around a fiver) but it feels decadent and treat worthy. It takes about 15 minutes and comes in at around 350 calories a portion, so while your wallet might take a hit your waistline won't.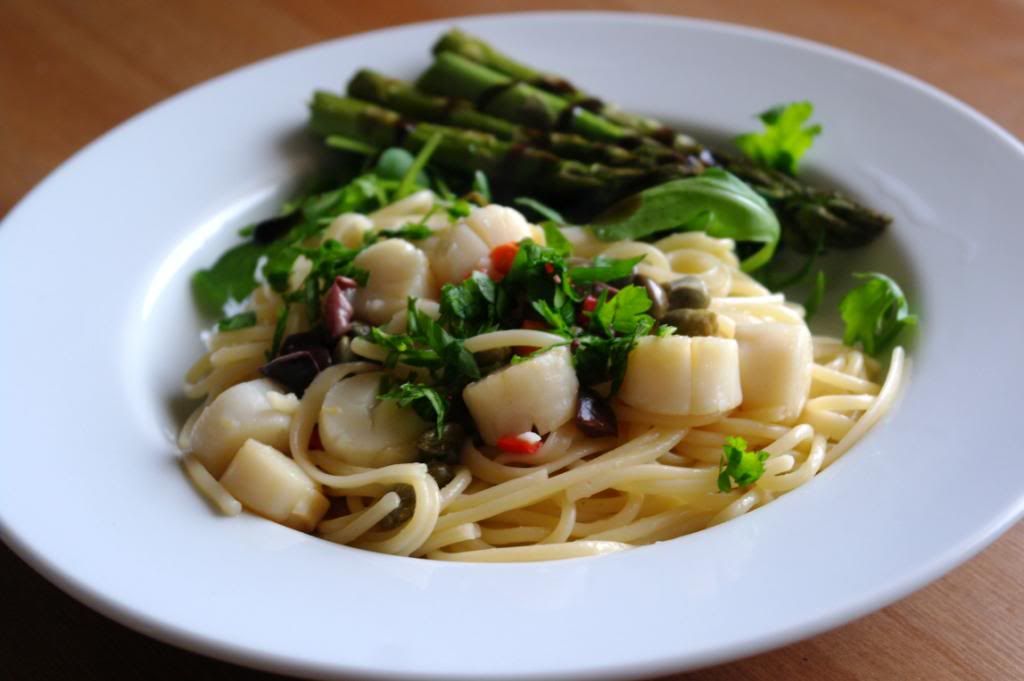 Ingredients for 2
100g dry spaghetti/linguine
175g scallops
1 tbsp olive oil
Juice of half a lemon
Couple of big forkfuls of capers
1/3 red chilli finely chopped (or a pinch of dried would be fine)
Small clove of garlic finely grated/chopped
4 or 5 kalamata olives, destonned and chopped roughly
Get your pasta cooking (most take about 10ish minutes).
In a glass/cup/jug mix the olive oil, lemon juice, capers, chilli, garlic and olives.
When the pasta is cooked, drain and leave in the hot pan (but not on the heat as you'll get some burnt s'ghetti) and mix in the 'sauce'.
Fry your scallops (we had the little 'uns do did them for about 50 seconds on each side).
Add these to the pasta and serve!-we had ours with some rocket and asparagus. I also had a touch of chopped parsley which the boy decided to forgo as he's a hater.