As a Friday night treat to accompany our Friday Fizz me and P picked up a cheeky take away from Bengal Brassiere which is just round the corner from him as neither of us could be bothered to cook. The food isn't mind blowing, but it's tasty, quick and isn't covered in a layer of ghee which I always find with a lot of Indian takeaways. I was also a bit naughty and had a brownie (and possibly half of P's) that he'd bought….hey it's Friday!
tandoori chicken, dahl, chapati and poppadom
Competition time!
P's Entries:
baked eggs with spinach, sundried toms, cherry toms and soldiers
sticky rice with sesame seeds, pickled ginger, carrot, avocado, sweet tofu, spring onions and kimchee sauce
harissa sardines, cous cous, rocket salad and yogurt
Plus a pudding of Raspberry Mousse that I forgot/was lazy and didn't take a photo of, but it was delicious!
My Entries:
smoked salmon and chive creme fraiche on potato cakes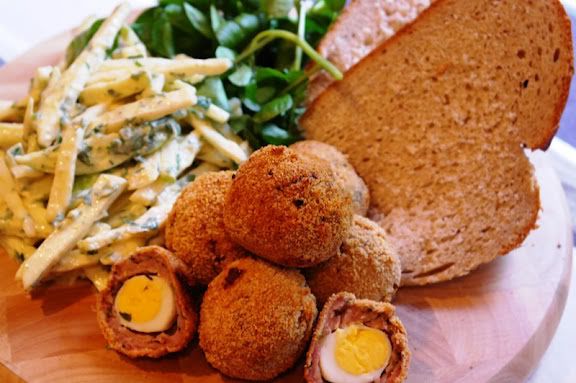 Quails scotcheggs, sour dough bread, watercress, celeriac coleslaw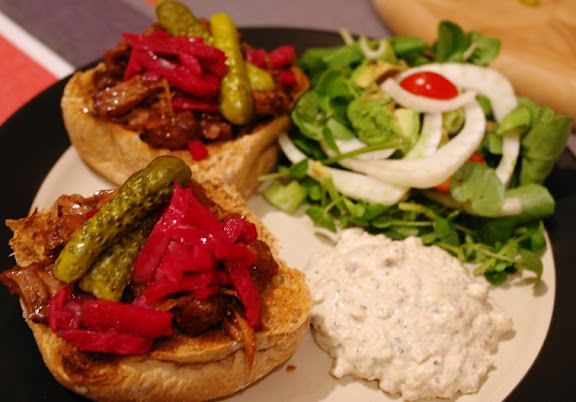 Pulled pork open sandwich
Salty Banoffee Pots
What do you think? I think it's a pretty close call.